---
December 7, 2015
---
What about getting good training tips from experience athlete,free!
This week will we focus on the advantage we gain through Triathlon Club, Swimming Club and Running Teams!
If you join a Triathlon Club, you will be a part of a community where you not only get good training, but also tips and advice from athletes who has done well in their field. Myself have been a member of a Triathlon Club for some time, and are very impressed over how the members include you from the very beginning as a new member. The athletes shear their experience and give advice to the new beginners.
Some of the experienceTriathlon members use an evening to instruct the members on how to get better running technic, swimming technic and also give spinning lessons. Have you signed on to a competition and wonder how the track is, or what you should think about before you start, than there is always someone in the club who has already done a Triathlon, and can give you some advice. You will get regular training hours every week.Itis much easier to train with members or others who has similar goals like you.
When you have a set time for training it is easier to plan, and you get a variation and new challengers.
You will find a lot of running teams, Triathlon Clubs in Norway; you just search on Facebook or Google. The price is reasonable just a few hundred kroner a year. You save all that because of all the benefits you get by getting free excess to pools etc.
Some of the girls in Bergen Triathlon Club took a training tour to Gran Canary: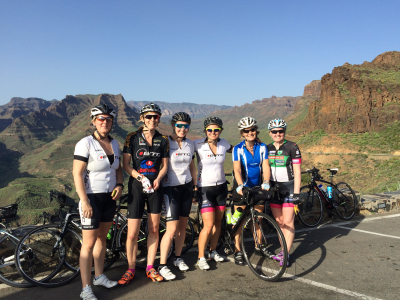 "I was so lucky to get a lot of advices on how to get better swimming technics from Ingrid Næss Hagetun (to the right) and Anette Brurås (in the middle, third from right). These girls has been swimming since they were children, and has full control on the technics."
The motivation improves when you can feel that you can master what you are training for, that is when you get better.
My first crawl with an instructor gave me everything but mastering, I did not master the breathing technic, or the right position on how to lie correct in the water. I swallowed a lot of chlorinewater and thought that I will have to keep on with the breast swimming. However, I continued to practise on the technics and to get the right position in the water, and I improved. I will not be a great crawl swimmer, but I can improve my technic and tempoduring the season.
Suggested swimming training program from Ingrid:
Interval pace as follow:
400 m warming up, optional swimming
5 times 200 m crawl. Here it must be a good tempo. Zone 3
40-30 sec. brake between each set by swimming 100 m calmly
Next series:
5 times 100 m crawl. Here it has to be fast, and you take a break for about 20-25 sec. between
each set, than 100 m calmly
10 times 50 m crawl/on back 25 m of each. It should go even faster and you have 10-15 sec.
brake between each distance.
Then 100 – 200 m  calm swimming to reduce the puls
Twice a week with this program will give you a great progress. Remember that only good advice will work when you follow it.
Personal follow up and tailor made training program:
Do you wish an even more professional guidance or tailor made training, than you can apply for an educated Triathlon coach, PT or others who can offer you a close follow up on the program. I have chosen a KeepFit studio which tailor make my training program to reach my goal, and gives my time to plan my training.
Here is my training program for next week:
Monday

Session 1
Training strength; knee bend with 4 repletion with 90% maximum strength 4 sett, core

training and optional chested training (hang-ups or military press)

Session 2
Swim as restoration
Tuesday
Session 1
Easy long jogging tour, not more than Zone 2, total time approx. 90 min. with warming- up and easy jogging.
Session 2
Wednesday
Session 1
Heavy pedaling, warming up 10-20 min. Reasonable steep hill, execute 5 x 8 min. with 45 rpm, for about 2 min between the paddling. Easy shutdown in 20-30 min
Session 2

Thursday

Session 1
Training strength; knee bend with 4 repletion with 90% maximum strength 4 sett, core training and optional chested training (hang-ups or military press)
Session 2
Fastness/spenst: Warming up in 10-15 min – than run increasingly in just over half marathon speed; 6 x 300 m for approx. 20 sec between the push. Shutdown for min. 10 min.

Friday

Session 1
Easy long distance biking, 3-4 hours, max. 4 hours.
Session 2
Saturday
Session 1
Swimming for 45 min.
Session 2
Restoration by jogging or walking.

Sunday

Session 1
Half marathon – even marathon tempo.
Session 2
Some easy swimming (preferably directly after the running)
Have a nice week!
Alice Haugland
Follow Alice at  http://thehappytriathlete.blogg.no/